There is an awesome Mom over at
My Cup Overfloweth
who wants to make a difference in the lives of Christmas shoppers and adopting families at the same time!
Stacy
and her husband just came home from China last month with a sweet little boy, and she definitely has a passion for orphans! She has offered much encouragement to me over the past few months, and I love her heart!
She is making it possible for Christmas shoppers to buy Christmas gifts that make eternal differences!!!
You can go to her site and link to several adopting families who are fundraising to bring their precious children home to their forever families.
Imagine! Giving gifts that make eternal differences!!! Instead of shopping retail and fighting the crowds, you could invest in the life of an orphan (James 1:27) right from your chair! :0)
Below are some of our fundraisers that are helping to bring our little Hai Hai home:
1. Tracy at
Junk Posse
is offering us an incredible opportunity! If you purchase jewelery from
Junk Posse and include "Hixon Family" in the comment/notes section
, she is donating 30% of the profits to our adoption efforts! (Just make sure it is not a piece already designated to a non-profit.) She has some AWESOME jewelery that you definitely want to see! She will even custom-design for you!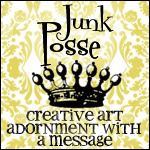 2. Our family is also selling these
great t-shirts
through
Adoption Bug
! These are fabulous shirts! What a great way to promote adoption, family, and love! Please consider one of these
shirts
as we will receive proceeds from these sales, and the proceeds will go directly to our adoption efforts!
3. One of my dear friends Christy is a
Mary Kay consultant
, and she has offered us a generous fundraising opportunity. If you buy the
Satin Hands Pampering Set
, we will receive 40% of the sale. (If you have never tried Mary Kay's Satin Hands, you are in for a treat!) This wonderful set even comes in a great gift bag, so you would be all set with this as a
Christmas gift
! Be sure to put "Hixon" in the comment field at checkout. Please go see
Christy's website
!
4. Now, for those of you who just don't see anything here grandma would like, or for those of you who just really enjoy the spirit of department store Christmas shopping, we are selling tickets to Belk's Charity Sale Event, which is Saturday, November 6th from 6 AM til 10 AM. This is a private sale event with 20%-70% off storewide (including "special savings on rarely discounted brands").
These tickets are only $5, and with the ticket, you not only get in the sale event, you get $5 off your first purchase!
("Ticket valid on your first regular, sale, or clearance purchase.") If you would like a few of these, please email me at Rebekah@mudministries.com.
Please consider Christmas shopping from one of our fundraisers!
I will have a
"thank you giveaway"
for all those who make a purchase between now and November 16th. If you purchase from one of the above items, we will put you in our "thank you giveaway" and randomly select a few winners. Right now the prizes include an Adoption Bug t-shirt (winner selects style and size) and a $20 gift card to Target. And since the idea behind Christmas Frenzy rings so true with the message of David Platt's book, I think I will include his book
Radical
in the prizes! (More prizes were be included if they become available. ;0)
If you purchase an item from one of our fundraisers, please email me or leave a comment, and I will enter you into the "thank you giveaway." If you are not a follower here at In the the Heart of our Home, we will give you an additional entry into the "thank you giveaway" when you sign up to follow!
AND IT GETS BETTER!!!
If you purchase from our fundraisers or from any others listed at
My Cup Overfloweth
, Stacy will enter you into HER giveaway! How awesome is that?
Whew! Sounds like some awesome multi-tasking! :0)